IMPROVE YOUR SECURITY WITH HOSTED CLOUD TECHNOLOGY
With the current trend of moving data and servers to the cloud, we are seeing security become a part of the conversation and often turning into the solution. Moving security to a hosted cloud environment provides end users with an intuitive solution that is easy to manage from anywhere on any device. Organization's situational awareness can be improved by reducing response times during security events by utilizing hosted cloud's inherent mobility.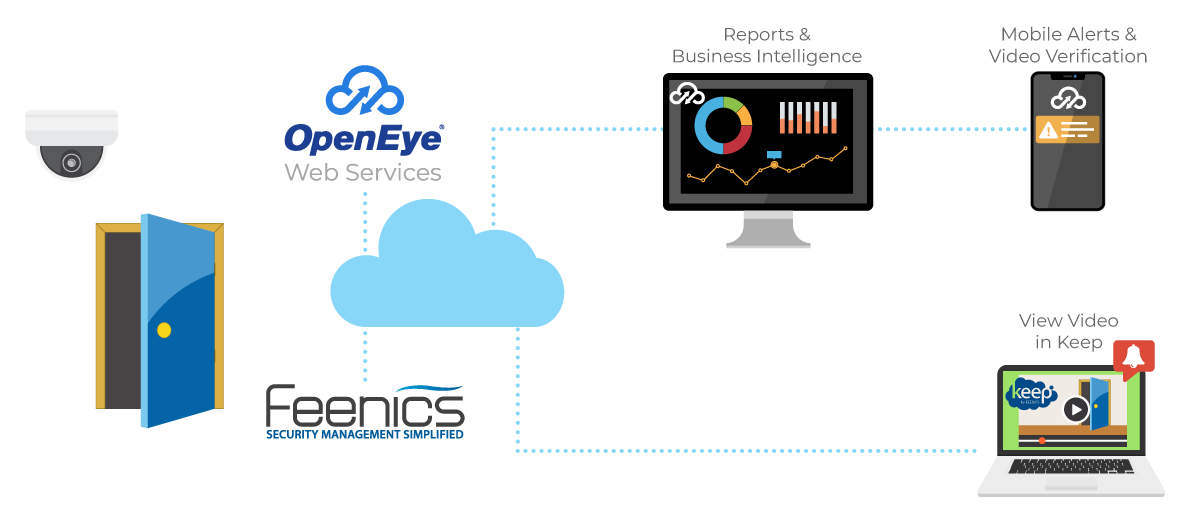 Top Cloud Managed Solutions

Keep by Feenics
Leading cloud-based provider of enterprise access control as a service (ACaaS) solutions. Keep by Feenics has the capability to scale from a single door solution to global enterprise environments. Keep includes RESTful API for easy to create 3rd party program integrations, native visitor management, a powerful mobile app that gives oversight for on-the-go security management and two factor authentication for increased security. Keep by Feenics is hardware fluid, able to support several leading manufacturers including Mercury Security, HID and Allegion.
OWS by OpenEye
PTD has developed a partnership with OpenEye, a leading provider of cloud managed solutions for video security, loss prevention, and business intelligence. OpenEye Web Services can streamline your operations which reduces work for the IT team, allowing for easier managing and maintaining of video integrations and deployments of any size. OpenEye utilizes their open cloud platform to combine and analyze event data from alarm systems, video, sales transactions, access control, central stations, and IoT devices.
Why is it important?
OWS establishes a cloud-to-cloud link to Keep by Feenics and captures access events to be processed by the OWS Alerts Engine as well as its device list so access control devices can be associated with cameras in the OpenEye system. The integration with OWS takes access events from Feenics' Keep and transmits them to the OWS Alerts engine to leverage push alerts, email notifications, and searchable event history, all linked to video from OpenEye systems for video verification.
Three Major Benefits to Cloud Technology

ENTERPRISE RESOURCES
With a hosted cloud solution, you automatically get access to an enterprise level cloud setup for a single subscription fee, including load balancing, pro-active health monitoring, database replication sets, vulnerability testing, two-factor authentication and other features that you do not have to configure, maintain nor setup for your organization.
FREE UP IT DEPARTMENT
A hosted cloud solution eliminates the need for on-premise database and application servers. Eliminating the servers also removes the maintenance and physical space in the data center or IT closet. Updates are automatically pushed out and new software is easily implemented for all users.
MOBILITY AND MITIGATING VULNERABILITY
Remotely manage processes, such as adding or revoking user access, reviewing recent card reads and camera activity, invoking lockdown all from any web browser or mobile device – your system goes with you 24 hours a day, 365 days a year. By moving your security technology to the hosted cloud, you turn complex security processes into a simpler, more manageable and scalable solution. From lack of local servers and proprietary equipment, to remote access, it makes security technology easier to install and manage across the board.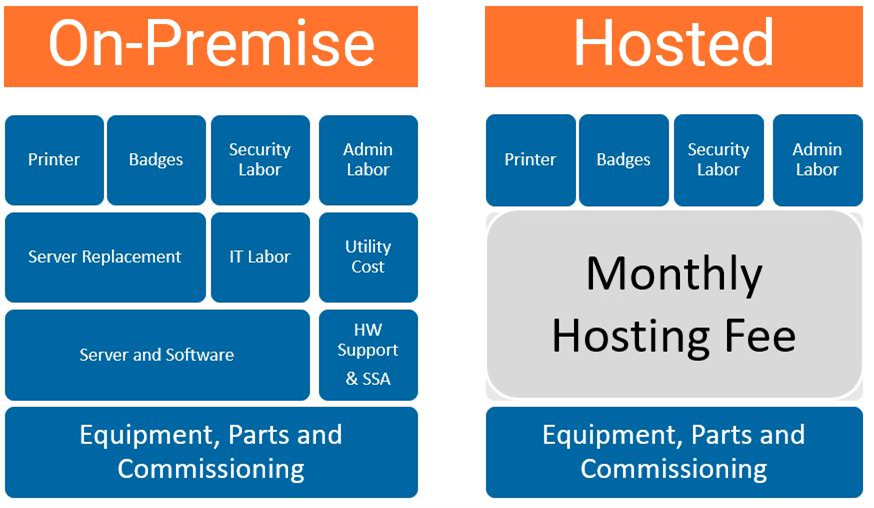 Is cloud hosting right for you?
Are you looking to reduce your hardware, have ease of use from anywhere, heighten security or reduce risk/energy costs? Please fill out the form below to contact us for a better understanding of the benefits that cloud hosted services can do for you.
Open a conversation on new approaches to your security strategy.