Detect, deter and secure the property
Security comes in many different styles.  Whether it's, people, physical assets or confidential information, access control protection is mandatory.  Pro-Tec Design is here to help.  With on-premise & cloud solutions available, protecting your building and everything inside of it comes naturally to us.  Whether your needing security for a building, multiple locations, campus, or an entire city, we will work with you to create a robust solution that fits your needs.  Pro-Tec Design can explore any or all of these technologies with you:
Card Readers
Auto-Operators
Biometrics
Mobile Credentials
Intercoms
Panic Buttons
Lock Down planning and implementation
Whether you're building new or want to utilize your existing doors, gates, and turnstiles, we'll find a solution to your problem.  We have an entire staff that will guide you through the steps of planning, engineering, installation, and service to give you a seamless experience.  Pro-Tec Design will design & deliver a state-of-the-art custom security solution for your business while integrating the leading manufacturers latest technologies.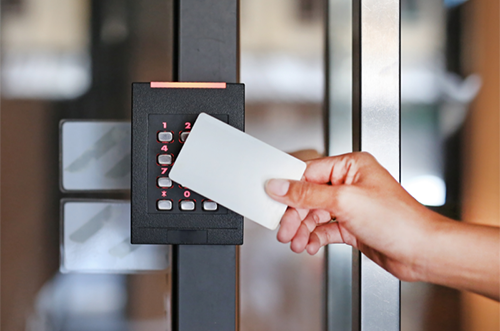 Enhanced Access Control
With any access control system, you should create levels or layers of security. As you increase the level of security, you also increase the complexity needed to gain access. Whether you are interested in basic access control with proximity-based card readers and keypads or a more advanced system with fingerprint or hand geometry biometrics, we can design it for you.
Mobile-Enabled IP Video
Today's IP video surveillance systems can provide you with high definition video and extend as far as your network will allow. Make sure yours is mobile-enabled to allow you to use your phone to remotely monitor your system.
Contact us to see how we can help
Open a conversation on new approaches to your security strategy.